Book description:


"God, please let me die!" I was tired, discouraged, and absolutely hopeless. I was a failure as a wife and as a mother.

"Why won't you take me home?"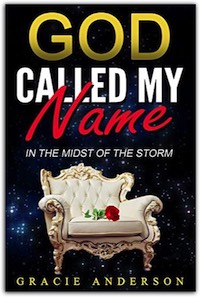 Instead, He spoke to me, a humble, country girl that loved God and all of creation, yet knew little about Him, or even the Bible, for that matter. Immediately upon hearing His audible voice, I knew He was my creator, it seemed as though all my organs had ears inside and outside my body.

The God of Abraham, Isaac and Jacob wanted me to live and not die! I had many questions! Sleep had suddenly left me and I stood to my feet. This is a true story of learning who Jesus is. Finding the HOLY GHOST in the midst of life's Storm.

He is precious, He is my Teacher, and He is my Guide. He is my treasure, the pearl of great price, more precious than the finest gold. His love and His grace has no measure, He gives and gives and gives again.

Over the years since I first heard His voice, He has spoken to me audibly, through visions, dreams, songs and poems, as well as through others. It would change my world and those around me.

I have travelled a highway paved with many emotions, a highway of tears, laughter, joy and much sorrow. Perhaps you can relate to this same highway upon your life's journey to a more meaningful place.
Perhaps you are a skeptic, a non-believer, or atheist.

But, wherever your walk takes you, I pray it is a place filled with peace, faith and a personal relationship with the living God, King of Heaven and earth. There is no one like Him, nor can there be. He is a kind, loving Father, he is beyond imagination.

Please understand that I do not seek fame, fortune, or recognition of any sort. I only seek to obey the Lord. This is my story. I am not delusional or a religious freak. But I am a lover of the one true God. He is more than my Alpha and Omega. He is my Abba. He is my Everything.

God desires a relationship with every one of us. Listen closely and you will hear His voice. He is calling you.

BIO

Gracie is a Christian. Her first love is God! She has three constant and faithful
companions. They are the Holy Spirit, the notebook, and the pen! The most important,
by far, is the Holy Spirit. These three are always at work waiting for the next opportunity
to present themselves.

Gracie's passion for helping other people flows through her writings. Her
greatest desire is to follow the Holy Spirit through life's journey. She knows the
most direct path to pleasing God is obedience; even if that means making a small
notebook and a pen her constant travelling companions.

The Lord has been prompting me for several years to tell my story. A story
about an ordinary woman who, on her own could do nothing, but through the
power of the Holy Spirit, would be capable of moving mountains.

And mountains have indeed been moved!

Contact: ObscureMyEmail